"The proof is in Circuit Breaker Sales & Repair's performance. We're submitting a requisition for more of the MagVac breakers this week."

Colonial Pipeline's Lead Technician Kevin Holland
The revolutionary new MagVac Circuit Breaker features the latest in vacuum interrupting technology combined with magnetic operation. The magnetic latching actuators are linked directly to the vacuum interrupters, eliminating almost all moving parts. There is no complicated spring-charge mechanism, trip coil, close coil, or charging motor to break down. CBS MagVac is the reliable solution.
Call Circuit Breaker Sales & Repair.
281-479-4555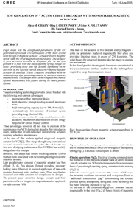 The CBS MagVac Circuit Breaker features the latest in vacuum interrupting technology combined with magnetic operation. The magnetic latching actuators are linked directly to the vacuum interrupters, eliminating almost all moving parts. There is no complicated spring-charge mechanism, trip coil, close coil, or charging motor to break down.
For many years medium voltage power circuit breakers have been misapplied into motor starting and repetitive duty applications. The usual fix or upgrade was to install a magnetic contactor in the series or on the same breaker assembly. This brought with it many additional problems. Low interrupting rating of this device made current limiting fuses a must. This complicated and added to the cost and difficulty to both coordinate and maintain this equipment.
Magnetically operated power circuit breakers are the best solution when extending the life of your older equipment is needed. With the CBS MagVac you can reduce the need for yearly maintenance and direct those maintenance dollars to other assets. Tie this in with the Group CBS service network and you have a viable option for all types of equipment upgrades and life extension projects.
The CBS MagVac magnetically actuated circuit breaker solves both of these issues. The MagVac is a true power circuit breaker with ANSI certified interrupting ability, capable of doings its job without current limiting fuse. It also fits directly into the existing structure so no modifications or additional structure is required. When an issue is encountered with failing or worn mechanisms and the need to start stop large to medium voltage rotating equipment CBS MagVac is the obvious solution.